The professionals at Driscoll Contracting are here to meet any & all of your home's gutter needs. Many homeowners don't realize that gutters are an essential part of the home. They ensure proper drainage by diverting rainwater away from your roof and home. When water fails to drain properly, there is no telling where it will end up. If gutters are not properly installed and maintained, issues with drainage can lead to serious damage to other parts of the home including roof erosion, rotting to the siding, basement flooding, and foundation damage.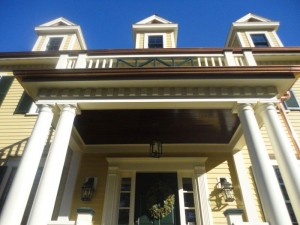 Professionally installed gutters are the best way to ensure proper installation and quality materials. Hiring a licensed and insured contractor can save you the time & hazards associated with attempting the project yourself. A professional can also help you determine if your gutters need cleaning, repair, or a full replacement. They will also typically provide a warranty for their work. Driscoll Contracting can complete your gutter project quickly and deliver a high-performance gutter system.
Along with safety and performance, we understand that style and price are important factors for any home improvement project. Gutters can be designed to complement a home's aesthetic and to maximize savings for homeowners. Our gutter designs are available in a range of materials, allowing you to make an informed decision based on style as well as price. We offer high-end gutters made from the following materials:
Copper Gutters
Aluminum Gutters
Wood Gutters
& More!
To talk about which gutters are right for your home & receive a quote, contact Driscoll Contracting at 781-405-5584 or [email protected]