Spring Home Remodeling Projects in Boston MA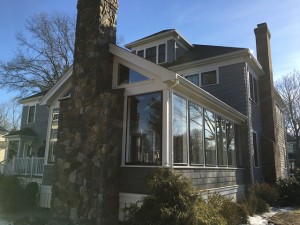 With the spring warmer weather here, it's the perfect time for Boston homeowners to think about all the home improvement projects that they've put off. With the snow melted and temperatures mild, home improvement projects are a great way to increase your home's curb appeal. Driscoll Contracting & Development have put together a few ideas to give your home a spring makeover!
Warmer weather means outdoor entertaining and BBQs and what better way to do that than with a new deck! Adding this new space is ideal for out outside socializing and dining and is a very affordable project. In addition to being cost-effective, installing a deck will increase the amount of space you use outside. Speak with your contractor to determine the best project plan that will stay within your budget.
Boston homeowners are no stranger to harsh winter weather, which is why it shouldn't be a surprise that it can damage your vinyl siding. Enhance your home's appearance by upgrading your weathered or damaged siding.
While you may not be ready to commit to a full kitchen remodel, there are still other minor projects that can take place there. One of the most popular kitchen investments are refurbishing your kitchen's cabinets. You can spruce up your kitchen by installing custom-built cabinets or by simply replacing your knobs and pulls.
From kitchen remodels, home additions to custom deck installations, the professionals at Driscoll Contracting & Development, Inc. are ready to provide you with expert craftsmanship and excellent customer service. We will work with you throughout the whole process to ensure your home project is everything you hope it to be! To learn more about our various home remodeling services, call us at  781-405-5584 or by filling out our online form.