Safety Tips for Your Roof Inspection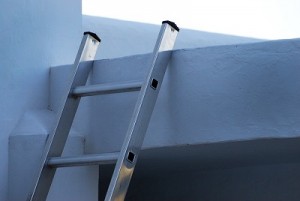 When it comes to any roofing needs or maintenance, Driscoll Contracting & Development always suggests that you hire someone that excels in that field. If you have experience with roofs and are able to give a proper inspection then we want to be sure that you're doing it safely. Follow our tips to ensure you stay safe as you inspect your Boston roof this spring!
As you make your way to your roof, be sure that you have someone with you. Inspecting a roof can be dangerous and in the event you are hurt, you want someone there that will be able to call for medical attention.
Make sure your ladder is in good condition and is placed on a level surface.
Invest in a safety harness in case you slip and fall. Be sure to tie yourself to something that is sturdy on your roof to prevent you from leaving the roof.
Check your local forecast before heading up to your roof. If there are any weather conditions that involve some sort of precipitation or storm, you should put off your roof inspection!
Purchase the correct footwear, safety glasses and hardhat to keep you safe and balanced when up on your roof.
If you come to the realization that you don't feel comfortable inspecting your roof, contact the professionals at Driscoll Contracting & Development! We are happy to set up a roof inspection and then go over any solutions you may need. Whether it just be some repairs or a whole new roof, we are happy to help! Contact us today by filling out our online form or calling us at 781-405-5584.