What are the Best Kitchen Countertops?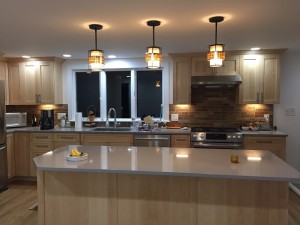 If you notice some serious wear and tear on your kitchen countertops, it might be time to consider replacing them. With the wide selection of kitchen countertops on the market, it can be terribly confusing to know which countertop is right for you. Some countertops are a bit pricey but well worth the hefty price tag, and others certainly won't break the bank but they do not stand the test of time.  Our home remodeling professionals are here to walk you through some of the most popular countertop choices, helping you decide which material is right for your next kitchen remodel.
Quartz Countertops
Although the corners are a bit sharp, quartz countertops are certainly on our list of the best kitchen countertops. With the aesthetics of stone, quartz requires little maintenance, it's offered in a slew of beautiful colors and it's stain resistant which is a massive benefit for those who are regularly cooking. If you want granite or marble but they're out of your price range, quartz is offered in patterns that resemble the two.
Granite Countertops
When tested, granite is resistant to heat, cuts, and scratches, so don't worry about placing your pots and pans down! To really showcase your kitchen, opt for veining and rare colors but keep in mind these do make the countertop more costly. On the downside, resealing will be necessary every so often to ensure there are absolutely no stains. Additionally, corners can chip which means you'll need a professional to come in and repair.
Laminate Countertops
Homeowners on a tight-budget adore laminate countertops, and for good reason. Considered the most budget-friendly option on the market, laminate countertops have made headway in recent years due to the new patterns being offered. From natural stone patterns to wood to mid-century designs, laminate countertops offer the most bang for your buck.
Wood Countertops
For that cozy cottage look or rustic kitchen charm, wood countertops are sure to seal the deal. Heat-resistant and ideal for prepping food, wood countertops are the perfect combination of decorative and functional. Many homeowners tend to mix wood with other materials such as stone for a completely innovative design.
Marble Countertops
Whether you're accident prone or have little ones running around, marble countertops will quickly hide light stains. Like other countertops, marble does require sealing but its timeless appeal makes the upkeep seem insignificant. If you desire a high-end kitchen with gleaming surfaces, marble countertops are the way to go.
Choose Driscoll Contracting for Your Kitchen Remodel
At Driscoll Contracting, we have years of experience providing Massachusetts' homeowners with their kitchen remodeling needs. Whether you desire new countertops or cabinets, sink and faucet replacements, upgraded hardware or an entire kitchen overhaul, our team is at the ready to provide you with the kitchen of your dreams. Give us a call today at 781.405.5584.