&nbsp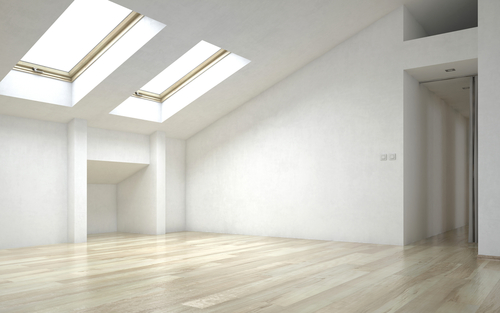 6 Benefits of Skylights in Your Home
Having skylights installed in your home is a big investment, but it can make all the difference in the value of your home when done professionally. But, like other big home improvement projects, there are a lot of other benefits that come along with it, outside of a bigger price tag for your home. Here's what you can look forward to with the installation of a skylight or two in your house.
Better Ventilation
Opening a window to let in a nice breeze is one of the best parts of spring and summer. Likewise, a skylight that can open and close helps bring even more ventilation to other parts of the home, like an attic or upstairs hallway that may not have any standard windows. This means that every part of your home can benefit from fresh air.
Sunlight and Heat
One of the biggest draws for homeowners looking to install skylights is the added natural light and solar heat. With standard windows, your hours and strength of natural light are limited based on which way those windows face. With a skylight, you'll be able to benefit from direct sunlight for longer throughout the day. This can be a major help in the winter when natural light is important for boosting mood and helping with depression that can often occur in the colder months. Plus, all that sunlight streaming in means you get to take advantage of free solar heat, which will help with the energy bills in the winter.
Save on Energy
As just mentioned above, solar heat can help you warm up your home naturally, so your heating bills will be lower. And with the ability to open the windows in the cooler months, you'll allow fresh air in without having to run the air conditioning as often, so you can say goodbye to overly high energy bills.
Enlarge a Room
Adding a skylight is like adding an optical illusion that makes any room appear larger. The placement of the window is unexpected, and allowing light to filter in from the ceiling makes a room feel much larger and more open. The effect achieved is similar to adding a large mirror.
Aesthetic and Resale Value
Making any change or addition to your home to boost its beauty will undoubtedly raise its resale values as well. Many people opt for a bathroom renovation or a new pool, but skylights are a major draw to buyers and will be a good investment if you're thinking of selling in the future. Not only do they look great, but their functionality makes them a can't-miss feature.
Better Views
If you have a finished attic or upstairs room with a slanted roof, a skylight can add more than just natural light and ventilation – it will also give you a great natural view of your surroundings. You'll be able to see more of the treetops and space around your home from the skylight, which won't hurt the resale value of your home!
Skylight & Window Installation in Concord, MA
If you're thinking about adding a skylight to your home or including them in your full remodel design, call Driscoll Contracting & Development Inc. to book a consultation to make sure you get the best work done. Want to do more than just add a few windows? Consider us for your full remodel!