&nbsp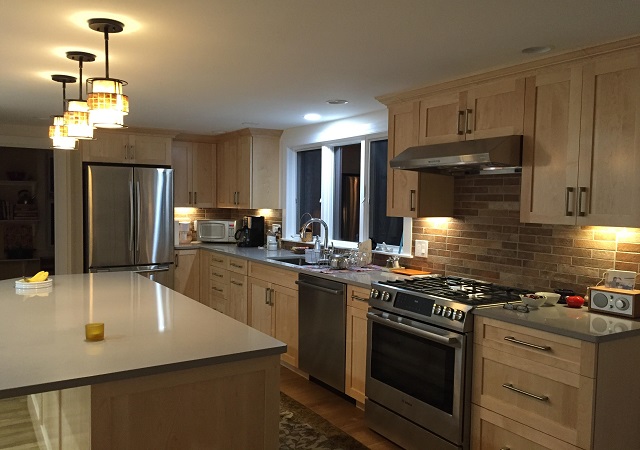 What to Consider Before Your Kitchen Remodel
A kitchen remodel is a huge commitment for homeowners in every sense – This is a significant financial investment, your home will be in disarray for a period of time, but the payout will be increased style and value in your home. Depending on how much you and your family cook or spend time in the kitchen, a remodel could potentially be a lifestyle transformation.
Your Remodel Budget
Your budget is the first part of a remodel you will need to nail down before any construction even begins. Having a set budget amount will then allow you to decide what areas of the remodel you are looking to allocate more or less of your funding to.  With a lower budget, you might want to avoid significant plumbing or electrical changes, while with a higher budget you may choose higher end fixtures.
The Room's Layout
Once you decide your budget, the first tangible aspect of your remodel to consider is the overall layout of your space. Are you happy with where the current appliance hookups are located? Do you like where the sink is? Would you like the kitchen to connect to another nearby room? If you are looking to change any of this, you will need a plumber & an electrician to work with your contractor throughout the process.
Your Desired Style
Flooring, paint, backsplash, cabinetry, appliances… There are a lot of factors to decide on when you are doing a full remodel! Don't forget to make sure all of your stylistic pieces are coming together. If you choose a stainless steel fridge, make sure the rest of your appliances match. When choosing a paint or cabinet color, be sure to coordinate with your flooring choice. You will be pleased with the final result if you take the extra time to focus on style.
Why Hire a Professional Contractor?
Although many projects are fun for homeowners to embark on themselves, a major remodeling project is best left to the professionals. When you are taking down or building walls, doing electrical work, and changing up your plumbing, all of these factors have to be completed up to code for whatever is locally required. An experienced contractor will be intricately familiar with these codes. A professional team also brings experience to the job. Your remodel is an investment, and you won't want to jeopardize the end result by trying to make it a do-it-yourself project. Driscoll Contracting is ready to bring our motivated team and high-quality materials to make your dream remodel come to life. Call us today at 781-405-5584!